Farretti Ciabatta
Slow fermented hand-made in the South Downs
Farretti is a West Sussex producer of handmade, authentic, Italian slow fermented bread.
Based on the original recipe of the late Dr Cavallari who was the founding father of new wave Italian bread. He developed Ciabatta bread in the early 1980's to compete with the popularity of the French baguette, which was damaging the Italian bakery product market. Valeriana researched the history of this popular baking style prior to developing her own bread. They remained in regular contact until his death in 2006. Valeriana's bread was "influenced by his generosity of advice and passion for his craft".

Since starting the bakery in 2010 Farretti bread has won a strong consumer following who love its naturally developed flavour, soft chewy crust and light texture. In addition, this bread when oven heated or toasted forms light crispy bite.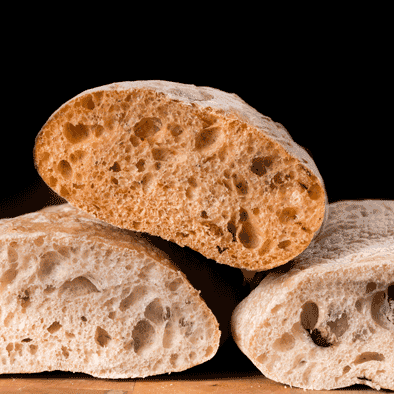 Ciabatta, a crisp-crusted Italian bread with hints of sourdough and loads of crannies longing for butter!
- Valeriana de Berardinis -